Yesterday, during the installation process of the Hanna Technology Spraying Line, the installation technician encountered a vertical problem of the spray line chain, and specifically asked for guidance and asked questions:
1. Spraying line installation technicians consultation: During the installation process, it was found that the chain is not vertical, and there is an angle of 7% with vertical. Is there any problem?
Xu guidance: The smooth running of the spray line does not necessarily require the normal standard vertical of the chain, as long as the two sprockets are on the same line.
2. Spray line installation technicians consultation: If there is no big problem if it is not vertical, then use the unconventional chain level?
Xu guidance: There is no problem with horizontal use. Horizontal design is also very common, but it is necessary to pay attention to the tightening problem to ensure the quality and smooth operation of the spray line.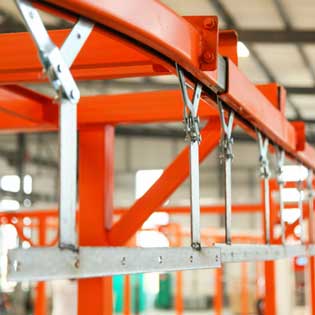 Hanna Technology Co., Ltd., specializing in the production of powder spraying lines and components. Professional transport chain to help you improve production and quality, welcome to contact us for free design, professional customization.
we web www.powderspraymachine.com
www.coating-equipment.com
email:sales@powderspraymachine.com
whatsapp+8618632138668