Hebei Hanna Technology Co., Ltd specializes in electrostatic spraying equipment and spare parts, electrostatic spraying machine, and electrostatic spray gun, electrostatic spray gun shell, circuit board, high pressure module, stainless steel powder bucket, powder nozzle, venturi tube, powder pumps, filter cartridges, powder buckets, etc. Its performance is superior, the powder is large and uniform, and the powder rate on the dead corner is high, which has good practicability to metal powder. It adopts imported electronic original devices and international advanced production technology and management mode.
Independent production of spare parts for the coating industry, the main products:
1.Various intelligent electrostatic spray gun, high voltage electrostatic generator, powder spray gun, powder electrostatic spray gun.
2.Various spray gun shells: KCI, Gema generation, Gema II, Gema III, Gema 4th generation, Nordson and other gun shells!
3.Various spray nozzles and spray gun accessories: KCI, Gema generation, Gema II, Gema III, Gema 4th generation and other electrode holders, gun heads, etc.
4.KCI, Gema, Wagner, Nordson and other types of powder core existing products up to 100 kinds, can be customized.
5.Powder coating filter, dust filter, filter, main specifications are: 325mm * 900mm, 325mm * 600mm, 325mm * 660mm, 320mm * 900mm, 320mm * 600mm, 320mm * 660mm and many other specifications, can be customized! The above filter materials are all imported fabrics and domestic high-end fiber cloth.
Product Name
 Picture
 Remark

HN001

Manual powder

coating machine

A WHOLE SET (CONFIGURATION ONE)

HN001

Automatic powder

coating machine

Controller + spray gun (Configuration 2)
Controller (Configuration 3)

HN002

Manual powder

coating machine

A whole set (Configuration one)

Controller + manual spray gun + high quality venturi sub-pump + 304 stainless steel powder hopper + one set trolley + powder feeding hose, gun cable, air tubes + high-end oil-water separator + pressure regulating valve

HN002

Automatic powder coating machine

Controller + spray gun (Configuration 2)

One controller + one automatic spray gun + one venturi sub-pump + 8 m powder feeding hose, gun cable, air tubes + spray gun accessories package (automatic complete set)

HN003

Automatic powder

coating machine

A whole set

1,Intelligent controller (P key) for a variety of intelligent memory functions, (and keys) for voltage, current adjustment, spray mode is divided into plane, groove, dead angle, one button to achieve, which greatly reduces the spraying time workload and the trouble caused by the groove dead angle that can not be sprayed.

2,The spray gun is the upgraded type , the 4th generation spray gun, pure PTFE material wear and pressure resistant, comes with mode adjustment button and current voltage adjustment button

3,OPT4 generation venturi powder pump, powder pump is equipped with quick release joint, so that the spraying effect is more uniform.

4,304 stainless steel thickened powder hopper, built-in gasket to prevent powder moisture, built-in high-density microporous fluidization board to make powder spray more uniform.

5,Oil-water separator, to filter the water, oil, cleaning gas in the compressor

6,The back of the controller is a large metal joint, convenient to remove the air pipe, not easy to damage.

Powder hopper

A whole set

The whole set does not include powder pump

Empty hopper

Separate fluidization plate

Powder vibration sieve

This screening machine: high power, high efficiency, suitable for industrial production. This machine is a new upgrade, the material is all stainless steel, suitable for electrostatic powder plastic powder, food grade factory use, etc.

1,Diameter 500,Height 80,Power 40W

2, Diameter 500,Height 80,Power 40W

3,Diameter 500,Height 80,Power 70W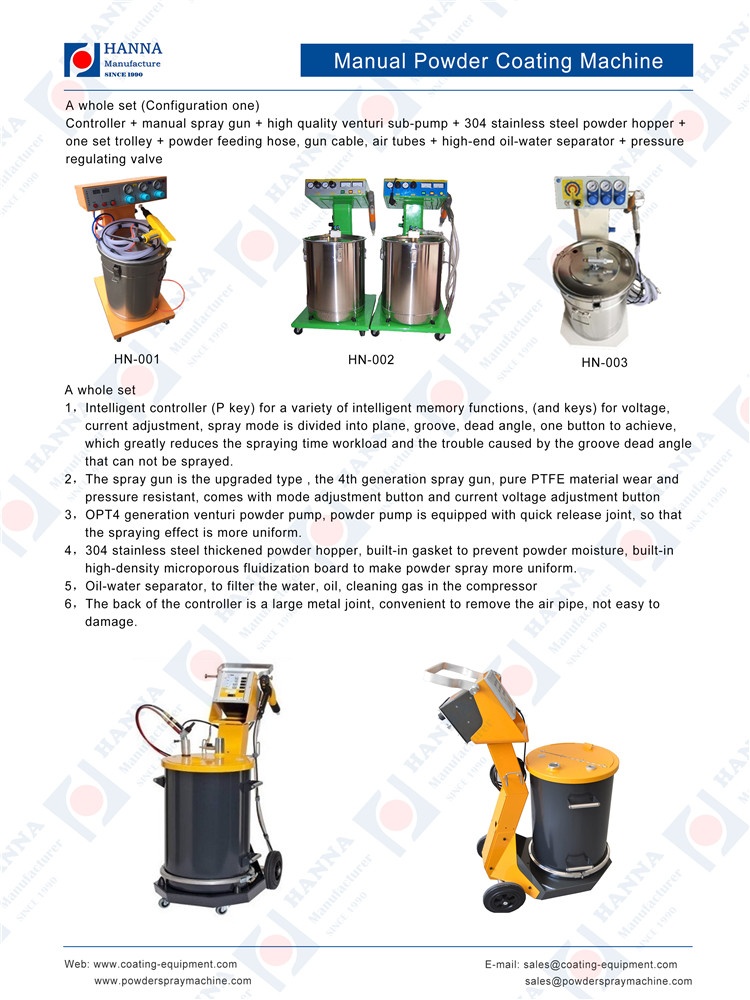 If you want to custom made any powder coating line, Pls tell us the following specifications:
1.The material of your workpiece.
2.The size of your workpiece .
3.The weight of your workpiece.
4.The output of your workpiece (one day=8hours,one month=30days).
5.The heating power you prefer: electric, gas, diesel, or coal.
6.The size of your factory (length, width and height).
We could make the design according customer's requirements. Pls contact with me and we will give you the quick reply.