Hebei Hanna  Technology CO., LTD has over 30years rich experiences in Powder Coating Equipment R&D and manufacturing  in China. From simple manual coating equipment to fully automated powder coating line. Our products are designed for you as customized. Our products including: Electrostatic spraying machine,Electrostatic spraying gun,Automatic conveyor equipment,Fast color changing coating booth,Powder recovery system,Multi-function spray booth, Waterfall painting booth, Telescopic painting room, Pretreatment equipment, Hot air furnace, Biological granule combustion machine, Gas burner, Electric heating oven, Curing oven, Overhead conveyor system, etc. We have passed the CE, ISO 9001 quality system certification.
1, Powder coating equipment, large cyclone powder recovery system
2, The installation of the powder coating production line of and the high efficiency nonstick powder recovery
3, fast color change, high efficiency of powder recovery
4, suspension chain, spray painting line, powder coating line
5, dustless workshop, automation equipment
Powder coating equipment can also be called other names: automatic powder coating equipment,manual powder
coating equipment,electrostatic powder coating equipment,electrostatic painting equipment
Spraying room: Consists of chamber, powder spray gun, automatic reciprocator, powder equipment, recycling equipment, exhaust device and electronic control components. In order to obtain high recovery efficiency and discoloration speed, large cyclone recovery and barrel recovery can be used, the recovery wind is soft, part of the sprayed gun powder is absorbed by the workpiece, the excess powder is blown down by the fan, through the cyclone barrel recycling recovery screening machine, the ultra-fine powder is applied by the secondary suction of the filter, and the powder is peeled off by the electromagnetic pulse valve backflow, and falls into the recovery unit for full recovery. The recycling rate is more than 99.2%, the recovery method is easy to change color, the cleaning is simple, the occupying space is small, etc.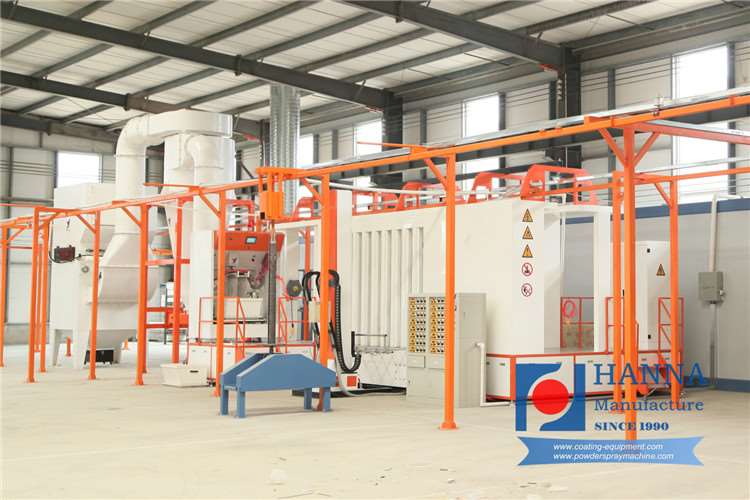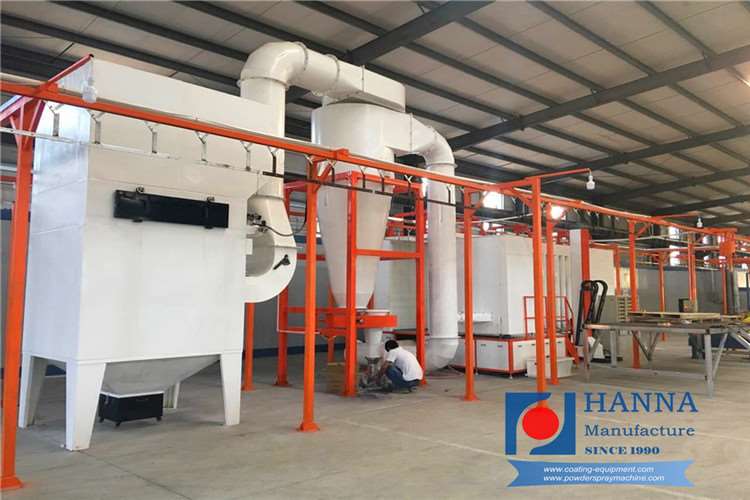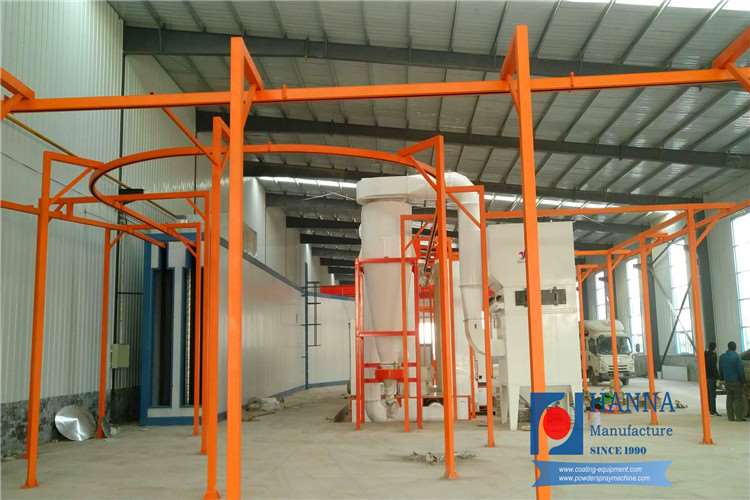 Hanna powder coating system features:
1, Ensure no dust spillover
2, Quick color change (10-15 minutes automatic color change)
3, Powder recovery rate as high as 99.2%
4, Fifth generation of intelligent spray gun, the workpiece groove has no bottoming phenomenon
5, Full consider the need for color change, easy to clean,
6, Key mechanical parts and electrical components of the equipment adopt the world's top brand products to ensure reliable operation and durability.
7, Beautiful appearance, fine workmanship
Now the powder spray booth is Cyclone Automatic Color Change Booth, it has high recovery rate of powder coating, quick color change, good recycling effect and low investment cost. Therefore, the filter recovery spray booth has been widely used. The electrostatic powder spray booth can be customized according to the needs of the users. The powder spray booth has single station, double station and multi-station, and the powder spray booth can also be made into a mobile type. The powder coating (spraying) line is continuously produced for 24 hours, greatly improving production efficiency and equipment efficiency. Note: Size can be customized according to needs. It is mainly used in the single (multiple) station painting or assembly line workshops of various industries for recycling powder processing equipment. The characteristics of the powder spraying booth are that the powder remaining is directly sucked into the filter element through the fan for filtering treatment. The powder adhering to the filter element is then sent to the recovery unit by back-blowing. The spray booth is easy to operate, stable and safe to use. It is a new type of product worthy of customer trust. According to the product requirements and site requirements, we can customize all kinds of recycled powder spray booth and automatic (manual) assembly lines.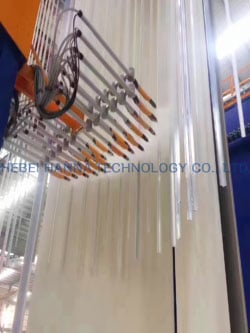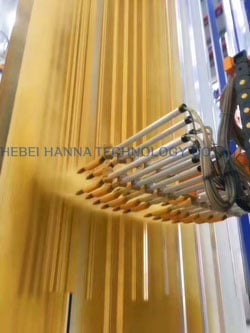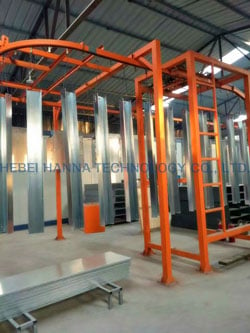 Hanna powder coating supply system:
1,A variety of powders and spray guns to meet all your needs
With a hopper from 50L to 200L, it can easily match up to 32 guns
2,Ideal fluidization effect in powder preparation stage 
The high quality fluidized bucket bed distributes compressed air throughout the surface of the bucket for ideal powder transfer.
3,Simple integration into each system
The new powder supply, recycled powder and air transfer combination offer the possibility to integrate equipment into any one system.
4,Integrated adjustable sensor
Powder level sensor – adjust height – activate alarm and automatic new powder supply system when powder level is too low
5,Vibration platform for difficult to fluidize powder
Powder hopper with its own vibration base helps fluidize for powders that are difficult to spray
6,The powder hopper trolley is easy to move
Powder hoppers with rugged strollers can be easily moved to wherever you need
Professional sieving equipment
Dust discharge rotary screen
The vibrating screen powder unit is easy to integrate into any system, has good performance, is easy to maintain and is suitable for quick color change.
Sieving machine with dust removal device
High-quality sieving equipment with automatic dust removal technology for unipolar organic powder and enamel powder coating lines
Ultrasonic sieve
High-frequency sieving equipment can be easily integrated into any system with high quality, high powder output and simple color change
The ultrasonic sieving of the powder supply center
The superior sieving performance of the ultrasonic sifter combines with the flexibility of the powder supply center and the fast color change performance.
Hanna powder pumps can continuously transport powder in large quantities in a gentle manner
●The powder conveying ability is strong
● Stable powder delivery to minimize compressed air consumption
●Automatic cleaning, fast coloring changes
● Wear-resistant parts and long service life monitoring function ensure low maintenance costs
Less powder accumulation in the spray booth
Keep it clean during operation: Non-conductive plastic walls and self-cleaning floors to prevent powder accumulation.
Non-conductive trusses: how they work
Conventional sheet metal chamber walls are electrically conductive and attract wedge-shaped powder particles that accumulate in thick layers on their surface.
The plastic sandwich walls we produce are non-conductive and do not attract powder. Only a small amount of powder particles can be deposited on non-conductive walls. The charge of the deposited particles creates an electric field that repels the powder.
Keep it clean during operation: non-conductive plastic walls and self-cleaning floors prevent powder buildup
Quickly switch between different powder colors for ultra-fast and non-contaminating color changes. Thanks to this revolutionary technology, you can quickly change colors between two different production batches to avoid idle time and maximize efficiency. The drastic reduction in color change time ensures your return on investment and fast return time. The automatic color switching process reduces human error and ensures the best application quality. Every operator is very easy to manage the solution to save time and money in order to perform more color changes per shift without losing productivity.
It is widely used in automotive, motorcycle, home appliances, electrical, mechanical, instrument and meter, radiator, anti-theft door, pipeline, valve, furniture, kitchenware, building materials, shelves, lamps, fire extinguishers, grain and oil machinery, refueling machine and many other fields.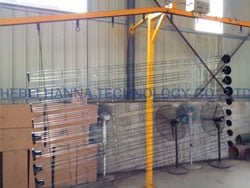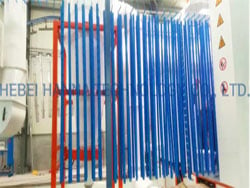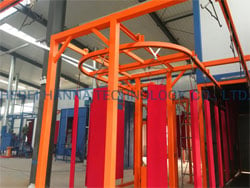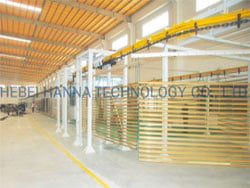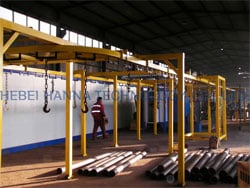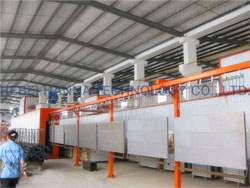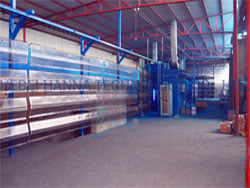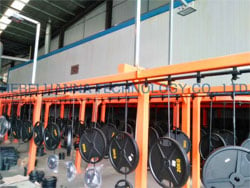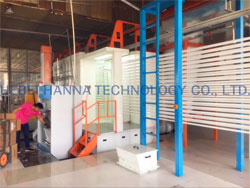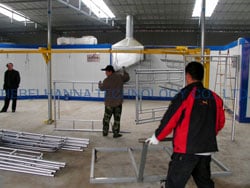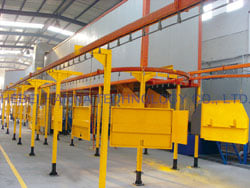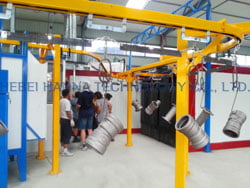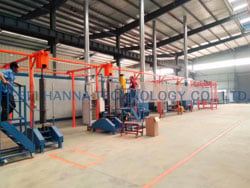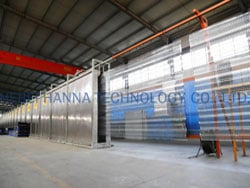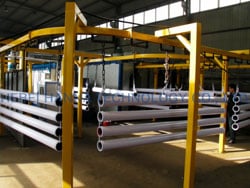 If you want to custom made any powder coating line, Pls tell us the following specifications:
1.The material of your workpiece.
2.The size of your workpiece .
3.The weight of your workpiece.
4.The output of your workpiece (one day=8hours,one month=30days).
5.The heating power you prefer: electric, gas, diesel, or coal.
6.The size of your factory (length, width and height).
We could make the design according customer's requirements. Pls contact with me and we will give you the quick reply.