HANNA company only focus on powder spraying (painting) robots.

Powder coating robot
Hebei Hanna Technology Co., Ltd. is the first echelon enterprise in the robot spraying industry, specializing in R&D and sales of integrated solutions for robots in spraying equipment.
Through the introduction and absorption of advanced technology and experience in the global automation field, high-end metal surface treatment solutions have been realized and applied, which are widely used in the metal manufacturing industry, metal furniture, mechanical engineering manufacturing, metal cabinet manufacturing, metal groove panels, metal hardware Manufacturing and other fields. Exported to Europe, Asia, South America, Oceania and many other countries and regions.
Hanna robot spraying exports are mainly divided into two types: drag teaching programming and visual automatic programming, which are currently the two favorites of customers. Its specifications are as follows:
1. Drag teaching programming: It breaks through the traditional robot point-to-point or offline programming mode. Workers can directly hold the robot for demonstration spraying. The robot can record and reproduce the movements of the worker. The operator has the basics of using the robot, and can quickly master the programming technology through simple learning, and truly realize the "The simplest operation" of the robot.
As shown in the figure: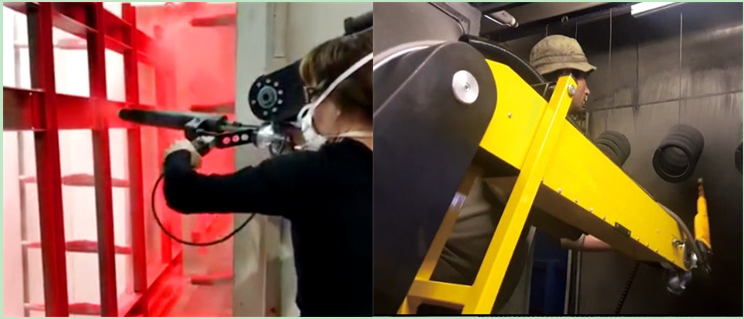 Visual automatic programming: the use of visual sensors can automatically identify and extract the position and contour characteristics of the workpiece, and at the same time, automatically generate the spraying program according to the spraying process expert system and preset spraying rules. The whole process does not require manual intervention. Realize "unmanned programming"
As shown in the figure: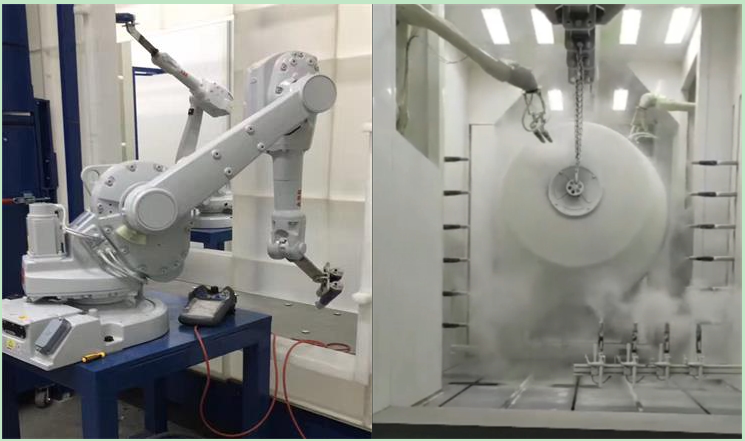 All robot coating solutions of Hanna Technology are individually designed to meet the individual needs of our customers. Hanna spray robot has passed the quality management system, safety certification and explosion proof certificate. To ensure that you get what you really need, our factory authorized technical team will help you deal with all the details and directly achieve your goals. From the initial design to delivery, Hanna will take care of everything. In addition, we will provide assistance in installation, fine-tuning and training until your system is ready.
Partner:ABB,KUKA,NACHI,YASKAWA,LESTA,SAIMO,CMA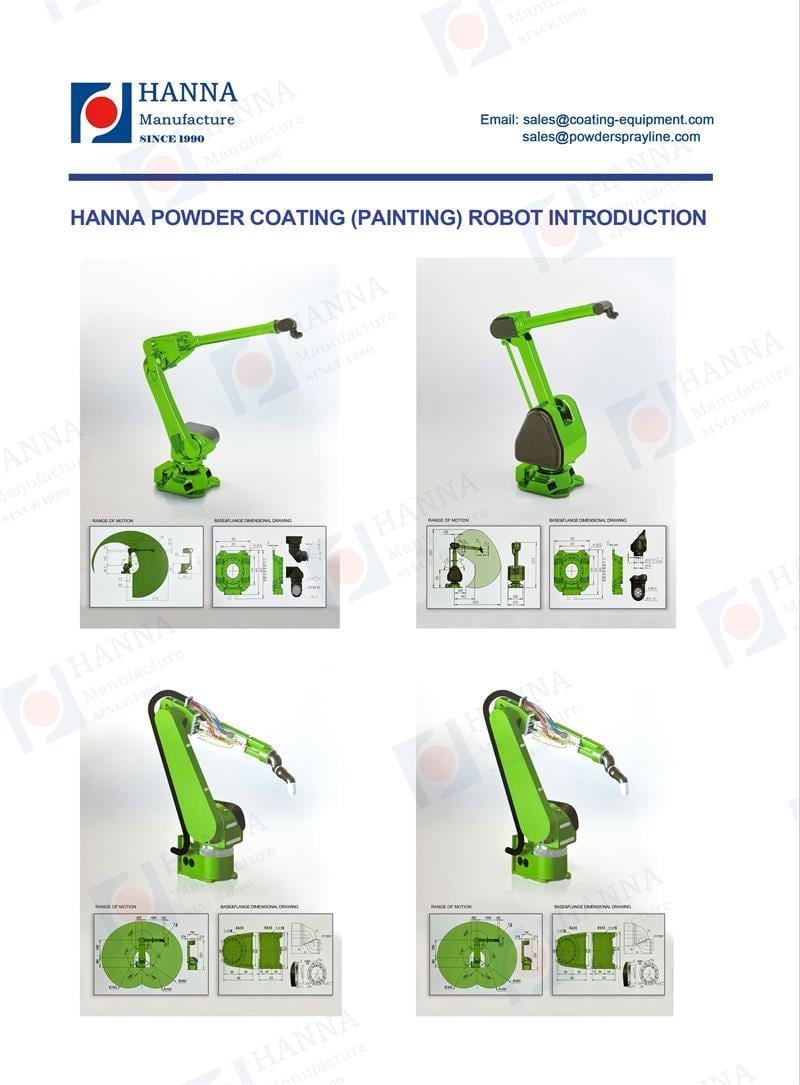 If you want to custom made any powder coating line, Pls tell us the following specifications:
1.The material of your workpiece.
2.The size of your workpiece .
3.The weight of your workpiece.
4.The output of your workpiece (one day=8hours,one month=30days).
5.The heating power you prefer: electric, gas, diesel, or coal.
6.The size of your factory (length, width and height).
We could make the design according customer's requirements. Pls contact with me and we will give you the quick reply.