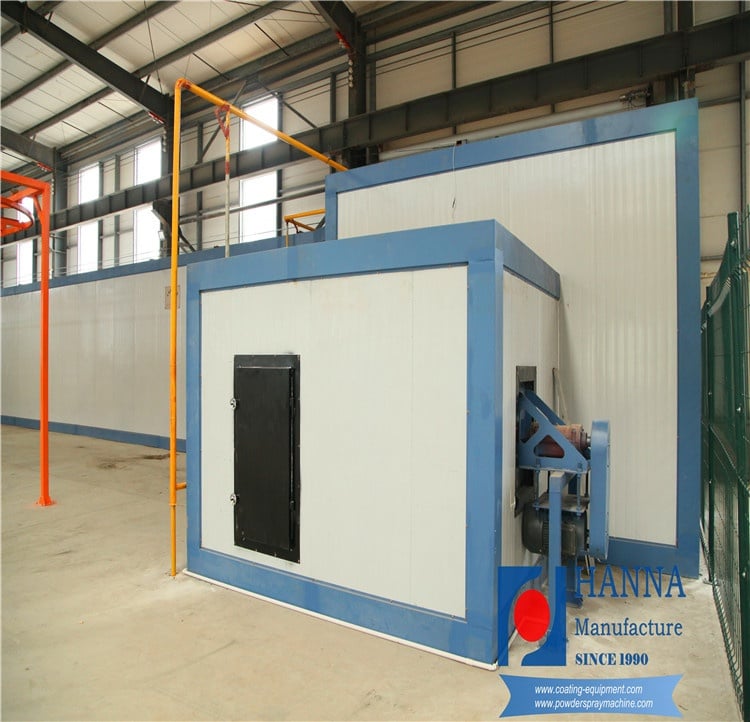 Curing oven can be divided into straight through and bridge type,150 mm thickness insulation sheet rookwool,hot air circulation oven has good heat preservation,uniform temperature in the furnace and less heat loss.Having the characteristics of resistant to corrosion,high temperature resistance and high cleanliness.
In electrostatic powder coating, the curing oven is one of the most important equipment in the production line of powder coating equipment, and its temperature uniformity is an important index to ensure the quality of the coating.
The tunnel oven construction cost is relatively low because it is built directly on the flat ground. But the heat preservation effect is not as good as that of the bridge type because of the severe convection of cold and hot air. The tunnel oven can select long workpiece but it is not suitable for wide workpiece. If the opening of the tunnel is too wide, the barrier of the wind wall to the convection of the cold and hot air will be reduced, so that the heating of the oven will be slow, the heat loss will be serious, and the operating cost will be increased.
Hanna curing oven features:
1,Has wind curtain at both ends, the temperature of the furnace won't dissipate to the out, saves the fuel, this is our patent.
2,Curing furnace insulation board are all plug-in board, seamless docking, thermal bridge transmission technology, save fuel
3,Safety is high, the burning unit that links the curing tunnel, automatically ventilates first, then ignites to eliminate safety hazards.
4,Oil-burning heating type, hot air circulation air supply and return reach a balance, reasonable layout, uniform furnace temperature.
5,Gas direct heat type, gas 100% into the furnace, high efficiency, no waste
Hanna hot air circulation oven furnace has good heat preservation, uniform temperature in the oven furnace and less heat loss. After testing, the temperature difference in the furnace is less than ±3°C, reaching the performance index of the similar products of the advanced countries.