Combined with the application of powder coating on Jianghuai automobile compartment production line, the characteristics and construction process of powder coating were introduced, and the compatibility of powder coating with electrophoresis and sealant, as well as the appearance decoration and coating performance of powder coating were verified.
Key words: powder; electrophoresis; supporting performance; aging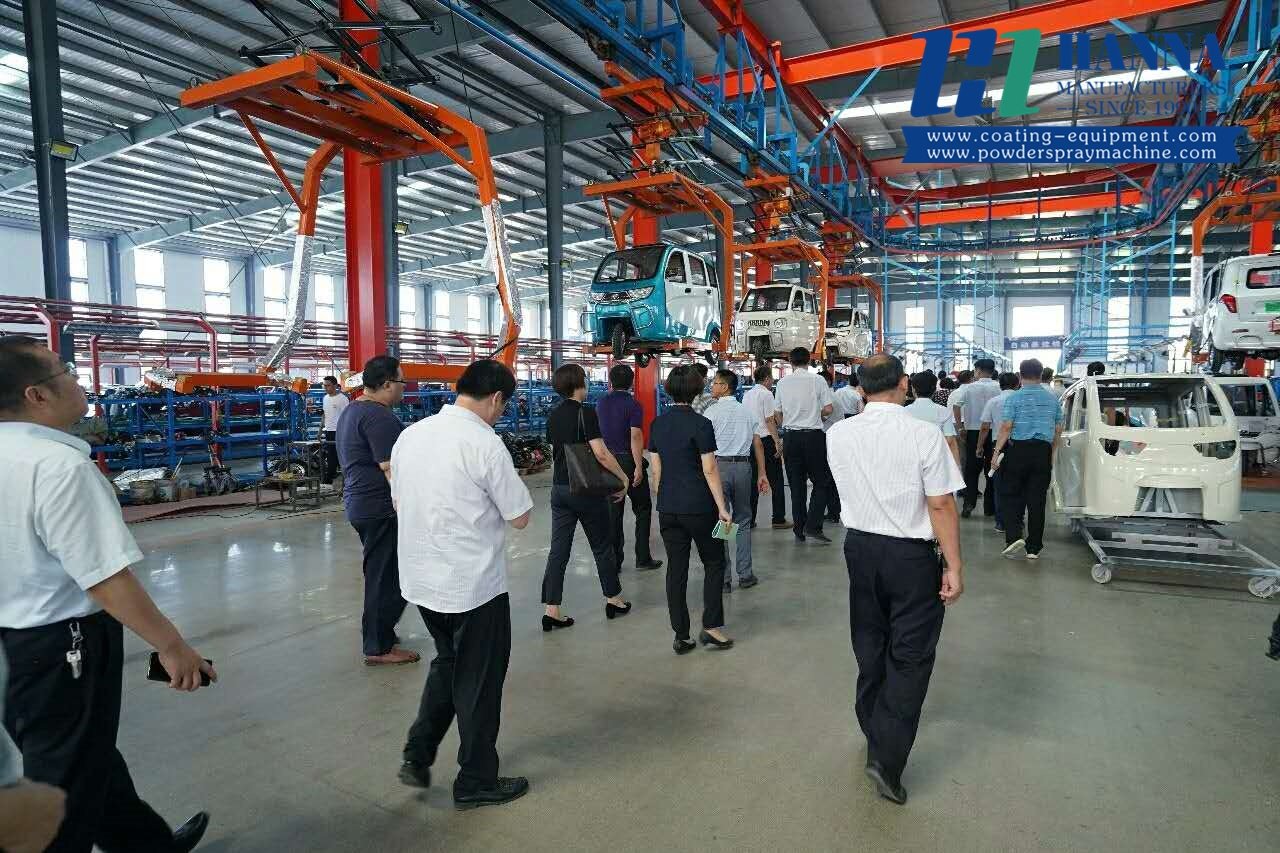 0 Preface
With the increasing attention and attention of the state and society to the environment, since December 1, 2006, the mandatory production and coating standards for the automobile manufacturing industry have been enforced, and various strict restrictions have been imposed on the three-waste emissions of the automotive coating industry. Powder coatings have a utilization rate of 99%, no waste water waste gas (three wastes) and other technical characteristics, have obvious environmental protection and energy saving advantages, and can greatly reduce the coating cost of automobile bodies and parts. To this end, we have carried out research on the application of powder coatings on automobile compartments.
1 Powder coating process and equipment application conditions
1.1 Characteristics of powder coatings
Powder coating consists of resin, pigment, filler, curing agent and auxiliary agent. It has no solvent and has obvious environmental advantages. According to the performance requirements of different appearance, hardness, flexibility, chemical resistance, weather resistance, etc., powder coatings of epoxy resin, acrylic resin, polyester resin and the like having corresponding performance characteristics can be applied.
The epoxy resin system is hard and tough, and provides excellent mechanical properties, chemical resistance and solvent resistance, but its thermal stability, light resistance and weather resistance are poor. The polyester resin system has excellent thermal stability and weather resistance and can be applied to automotive parts. The acrylic resin system has good appearance and excellent gloss and color retention, and can be used for preparing the decorative coating on the outer surface of the car truck body.
1.2 Process Introduction
There are mature applications in the use of powder coatings for painting automobiles and their parts, but there is no experience in vehicle application in China. Its application in automobile production mainly has two process routes, namely, the process route for body painting and the process route for component spraying. The process route for body powder spraying is as follows:
Pretreatment → Electrophoresis → Drying → Weld Sealing → Powder Coating → Medium Coating Drying (160~180°C/15min)→Inspection and Medium Coating Polishing→Dust Removal→Powder Top Coating→Drying (150~160°C/ 8~10min)→Strong cold→Powder varnish spraying→Drying (180~200°C, /20min)→Checking finishing→Underline
For the plain paint, the powder varnish spray can be cancelled; if the body quality requirements are general, the powder coating process can be eliminated.
This project is a car project, using the powder coating process route of auto parts:
Pretreatment→electrophoresis→drying→weld sealing→powder coating→drying (180~200°C/20min)→checking and finishing→offline
If the metal coating is applied, the surface is sprayed twice by spraying the powder line, that is, the powder metal coating is sprayed for the first time, and then dried and then sprayed into the powder coating line for powder varnish spraying and drying.
1.3 Powder coating process conditions
1.3.1 Spraying process conditions
Compared with water-based paint spraying room temperature humidity environment, powder spraying has no strict requirements on temperature and humidity. The recommended optimal spraying conditions are: temperature 18~25°C, relative humidity 40%~60%, and the coating window management range is wide, such as Figure 1 shows. The automatic section wind speed of the spraying room is 0.3~0.4m/s, and the manual section wind speed is 0.5~0.6m/s.
1.3.2 Drying process conditions
The drying process conditions are selected according to the level of decorative appearance requirements.
Generally, the drying conditions of the car parts are: 180 to 190 ° C, 20 min.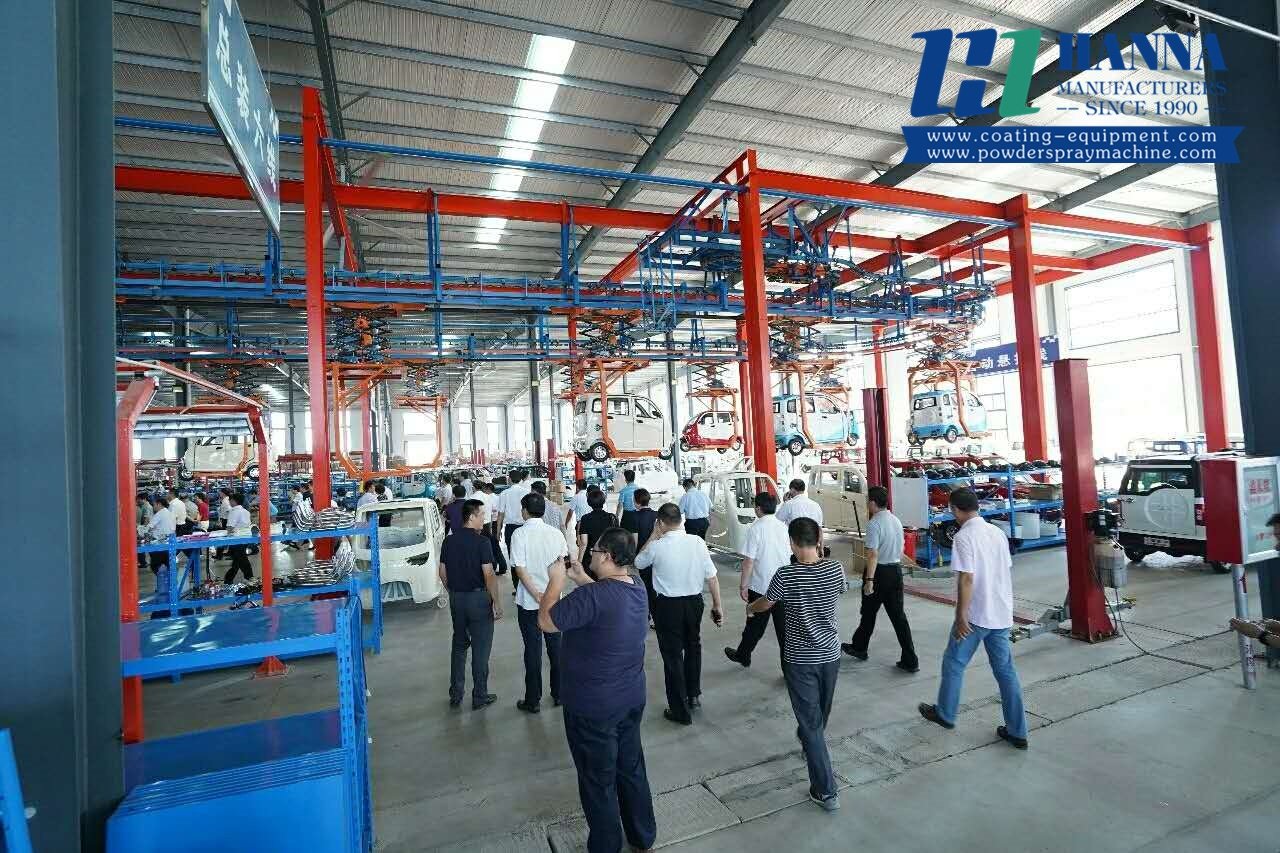 Hebei Hanna Technology Co., Ltd. specializes in producing various metal products spraying production lines. To provide you with quality production and quality. A permanent partner.
we web:www.powderspra​​ymachine.com
               www.coating-equipment.com
email:sales@powderspra​​ymachine.com
WhatsApp:+8618632138668