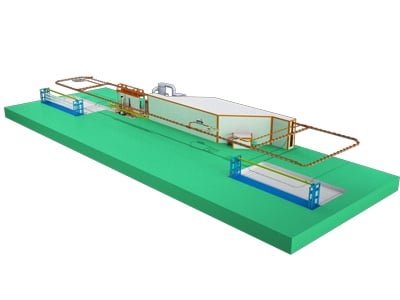 The purpose of maintenance of the spraying production line is to maintain the integrity and safe use of the equipment, and to ensure the safety and production quality of the spraying production line.
Daily maintenance of spraying production line
Power distribution cabinet: check whether the indicators of the power distribution cabinet are displayed normally, and other buttons and instruments are intact; there is no metal or all sundries irrelevant to the equipment in the power distribution cabinet, and check whether the circuit is normal.
Drying and curing drying tunnel: check the working status of the burner, the circulating fan has, the motor surface temperature test, and the top exhaust fan is working properly.
Conveyor belt: check the driving device motor, temperature test, and the triangle belt for wear; check the running status of the reducer, check the gear oil quantity, check the meshing condition of the gear and the chain, and there must be no chain accumulation; keep the chain lubricated.
Check the lubrication of the horizontal and vertical guide rails of the spray guns on both sides, check the pressure of the cold dryer and the radiator.
Water curtain cabinet: Clear the sundries in the circulating water tank of the water curtain cabinet to ensure the normal operation of the circulating pump.
Combustor: Check the fuel capacity of the fuel tank of the combustor and the cooling water for circulating hot air motor.
Motor: Keep it clean. The air inlet mask of the motor should always be well ventilated and not blocked.
The daily maintenance of the above spraying production line is for your reference only.