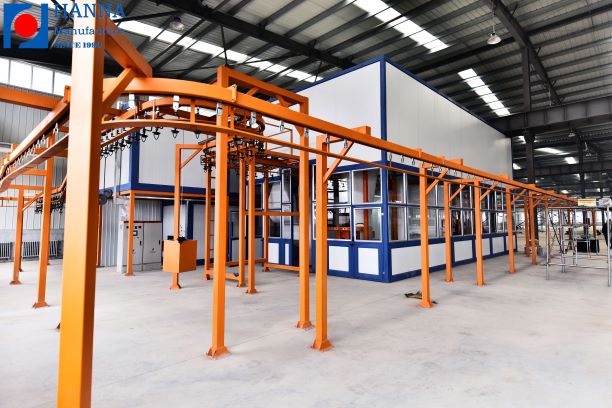 *Hanna automatic conveyor system features:
1. Based on customer needs, provide the corresponding optimal design
2. Fine workmanship to ensure operational stability
3. Highly automated process to increase efficiency
* How to achieve fine workmanship, optimized design and stable operation?
1. The track material is forged or steel, which is firm and durable;
2. All sheet metal materials and shaped parts, all lasers are off the assembly line, the tolerance is less than 0.2 mm;
3. Welding in the mold to ensure that the flange is perpendicular to the four corners of the track;
4. The entrance is treated with a knife angle, and the edge of the track is free of burrs;
5. The seam is no stuck;
6. Docking, lap jointing, turning range, etc., smooth processing;
7. Safety device design, extending chain life and reducing maintenance costs, including the tensile device, stuck automatic stopping device, overload automatic stopping device, etc.;
8. The overload protection device is optional, reducing the chain operation failure rate;
9. The drive with torque limiter is optional and can be started after troubleshooting.
10. Speed control system optional: speed control motor, stepless frequency conversion (0.5-10 m / min), PLC + computer programming + inverter
The drive unit in our high-end conveyor system uses a drive with a torque limiter. When the conveyor goes wrong, it can automatically stop. After the malfunction is removed, it can be restarted.
If the rail length is less than 180 meters, it will be driven by a single drive device. If the track is more than 180 meters, we recommend the double drive device. If the rail length exceeds 180 meters with a single drive device, then the track, chain, and tension parts will be problematic. We are at your point of view, providing you with the best design for saving time, labor, and long-term cost savings
*Conveyor transport system
1) The conveyor chain is forced by driving unit to make it go along track. When it comes to different sections of track, it can automatically make corresponding changes on convey height and direction. The driving units are equipped with safety pin protection for overloading.
2) Temperature expansion joint: when the convey track comes across drying furnace, the high temperature may cause thermal deformation on conveyor chain. Thus we design expansion joint at both ends of high-temperature zone for compensation.
3) The lubrication unit is helpful in drop oiling for axis pin, cross head and roller for regular maintenance.
4) Stepless regulation of convey speed for easy control and auto failure alarm for safety production.
*The main advantages of the Hanna conveyor system:
Easy to assemble and disassemble
Maximum flexibility, allowing the creation of transport routes with different configurations
High quality production and assembly of each component
Superior durability and reliability
Minimum maintenance requirements
Transport equipment can be adapted to individual needs and scale; it provides very flexible operation and simple management thanks to the custom designed software.
Other solutions proposed include specialized automation systems to facilitate handling operations and provide solutions for cargo handling of any size and weight.
Automatic Conveyor System is Including The Overload Protection Device. A Torque limiter . The Conveyor Steel Support Columns.
All the Fully enclosed self-fan cooled squirrel-cage three-phase asynchronous motor
1. Protection grade IP55, dust-proof and splash-proof water in cast iron shell, optimized structure, in line with international standards, safe operation is guaranteed
2. Class F insulation is used, which has high heat resistance, strong impact resistance, long insulation life, and can be competent in harsh environments.
3. Use well-known brand bearings, silicon steel sheet and enamelled round copper wire, the performance is guaranteed
4. Standardized design, high-quality raw materials, advanced processing equipment and perfect quality assurance system, high efficiency, low vibration, low noise, stable performance, safe and reliable.
Expansion rail is configured in the drying channel.Install lubricating device and inspection rail at appropriate place of catenary.
Choose the right distance to install the rail support frame, which can be supported by column and suspended support. The specific installation mode depends on the site conditions.
The adjusted catenary will run smoothly, safely and reliably without shaking when it is fully loaded and baked in a furnace.
An access ladder is provided at the driving device.
Double-point hanging is adopted to fully consider the maximum size of the workpiece when turning, non-interference sliding parts
The drive motor adopts frequency conversion motor