Has through CE &ISO9001 standards.
Training operation and maintenance personnel in organization.
Tracking understand and maintenance of mechanical equipment performance and use effect.
Our mainly products include:Manual powder coating machine, Automatic powder coating line, Spray painting equipment, Pretreatment System, Drying Oven, Powder Spraying Gun, Reciprocator, Fast Automatic Color Change Equipment, Powder Coating Booth, Powder Recovery Equipment, Conveyor Chains, Curing Oven, etc .
Customized suitable powder coating equipment for customers.
Since 1990. Hanna focuses on the development and manufacture of manual and automatic powder coating equipment.
We can provide you with innovative, rational and turn-key solutions.
Design — production — installation — after-sales service
You won't find a better combination of quality, value and support anywhere in this industry.
One-Stop Omni-Directional Service
If you want to need any powder coating line, pls tell us the following specifications:
1.The material of your workpiece.
2.The size of your workpiece.
3.The weight of your workpiece.
4.How many of your daily output(one day=8hours,one month=30days)?
5.What heating power do you prefer: electric, gas, diesel, or coal?
6.The size of your factory(length, width and height)?
We could make the design according to the customers' requirements.
Pls contact with me and we will give you the quick reply.
Making friends are all over the world by our excellent products and rigorous spirit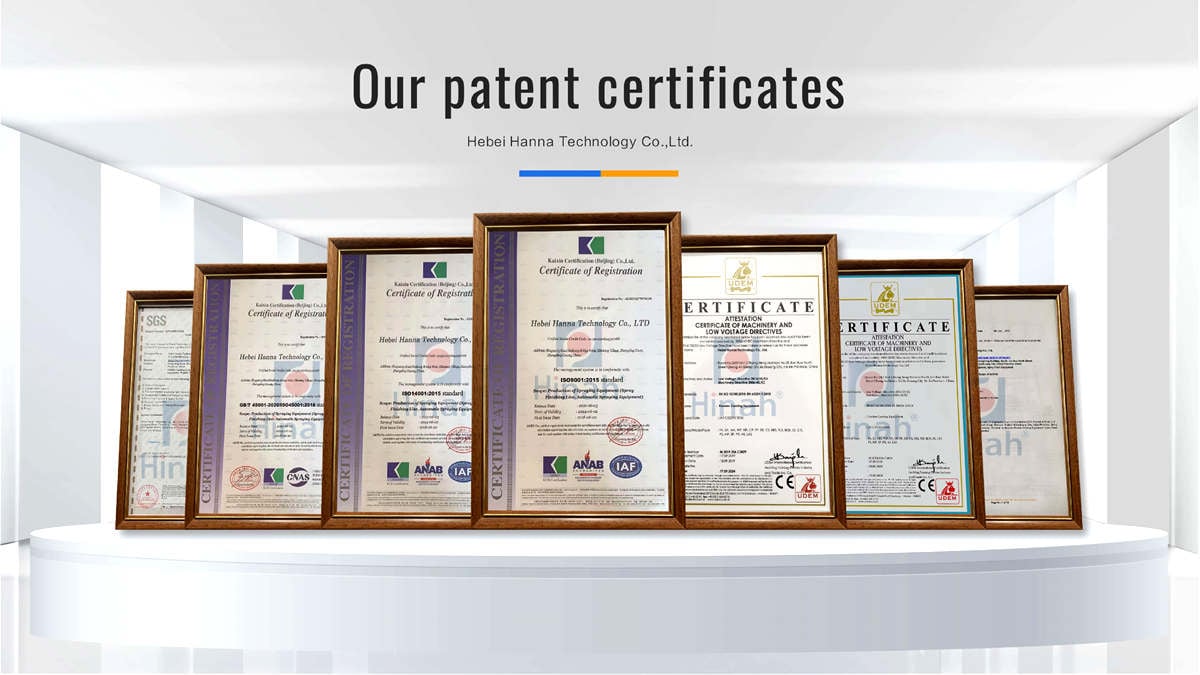 New technology development!
Upholding the independent research and development, enterprising spirit.We successfully developed a double line design of the full automatic powder coating production line – Power And Free Overhead Conveyor, which effectively improves work efficiency, saves raw materials, and occupy less area than the other powder coating production line, solves the problem of the small size of the factory.
1.Never compromise on design safety, integrity, efficiency, and reliability.
2.Deliver compact and design and never sell customers more than they need.
3.Give customers support whenever it is required.
4.Never stop trying to improve our equipment, solutions and services.
Our Services
* Professional Design
* Professional Scheme
* Professional Installation
* The warranty period of the equipment is two years, and any quality problems will occur during the quality guarantee period. Our company will replace the original equipment (parts) free of charge.  
* Within 24 hours after receiving service demand, by technical staff, has a rich experience by phone, email, video and other forms to provide project consulting, fault diagnosis and other instructional technology services, to achieve customer satisfaction.
After Sale
Our staff includes coating system designers, powder and chemistry experts, control systems engineers, technical support personnel, installation technicians and experienced trainers.
* Training operation and maintenance personnel in organization;
* Tracking understand and maintenance of mechanical equipment performance and use effect;
* Assist customers to manage the production process and select the specification of process management;
* Providing vulnerable parts at the factory price;
* Lifetime after-sales service.